One cannot trace back the introduction of games as they have been a part of humankind's history since the ancient past.
They were and are still being used as a form of entertainment, social interaction, and to challenge the brain. From physical games, board games to the recently trending online games, there is a massive variety of games available to serve the mentioned purposes.
When we mention online games and apps, they are one of the most easily accessible and highly entertaining forms of gaming that keep people of all ages hooked. The fact that digital games can be learned quickly is why they are gaining so much popularity. Also, they are not monotonous like many traditional games and challenge the brain differently, which adds to the enjoyment.
The clinical director of the Memory Disorders Assessment Clinic at Harvard-affiliated McLean Hospital, Dr. Julie Brody-Magid, says that playing mind games may play an essential role in maintaining overall brain health.
A study published in the November 2016 International Psychogeriatrics reveals that mind games sharpen one's thinking skills that usually deteriorate with age, such as decision making, short term memory, planning skills, and reaction time.
Here is a list of the best mind games that will really challenge your brain in a fun way so that you can reap the benefits of a healthy brain.
Sorting Beads
If you are looking for a set of gaming exercises to push your brain to work hard, Beads Sorting is a great choice. It offers interesting challenges that you have to complete within a givenset limit. Also, the level of difficulty increases with each level that you pass.
An interesting feature of Beads Sorting is that you can engage yourself with hours. The game series has fast-paced gameplay to challenge your brain skills, including memory, reasoning, and dexterity. Plus, the graphics are quite intriguing, which gives you a pleasant gaming experience.
The game is available for, iOS, and Android.
Paladins
The online gaming platform Steam is extremely popular. It offers a plethora of fun games that constructively challenge your brain. One of the best free-to-play games by Steam is Paladins, a fun shooting game.
The Paladins champions take on a set of challenges showing their unique abilities and keeping you hooked for hours.
The distinguishing feature of Paladins is the way its compelling graphics give you a massive dose of fantasy. From the fascinating challenges to the characters like goblins, dragons, and elves, it is packed with brain-stimulating features. The accelerated gameplay will push your mind to work at a fast pace and ace the challenge.
Color Hop 3D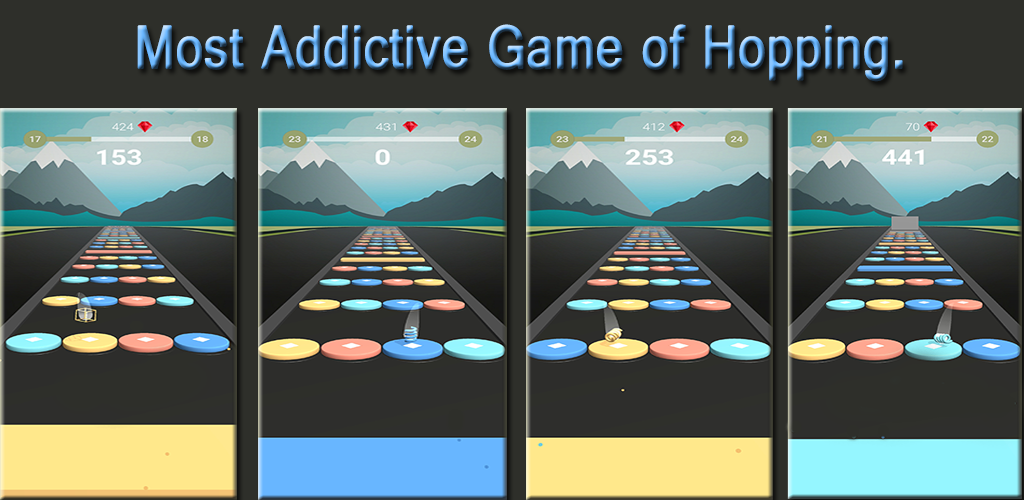 Who doesn't love hopping games? Besides having fun, you have to think fast while playing the game in order to complete the level without making a wrong move.
Color Hop 3D is a game where you have to quickly jump on the same colored bricks to score enough to complete a level. If you collect diamonds on your way, you will get bonus reward points, which you can use to buy new characters for added fun.
The game sounds like a very easy one, but it actually tests your brain's processing skills while improving hand-eye coordination. Available on Android and iOS.
Bounce Prediction
Another fantastic online gaming platform Unlimited Gamez Mo brings various brain games that you can enjoy without feeling bored. Bounce Prediction is one such game on the platform where you will be testing your predictive and analytical skills.
In Bounce Prediction, you have to think fast and predict the spot you think the ball will bounce next. You can score higher with every correct prediction. You need to study the puzzle carefully before making a prediction. Playing this game in your spare time will be a fun experience for you alongside productive brain training.
Luminosity
Luminosity is a highly recommended game for stimulating various brain functions. It is specifically designed to challenge the brain and enhance cognition.
Luminosity is not just a game. It is a whole brain training program that tests your cognitive abilities via a set of puzzles and games. As a bonus, these games are engaging enough to keep you busy for a long time.
Once you start playing Luminosity regularly, you will notice an improvement in your thinking ability, precision, and problem-solving skills. Your performance in the game will be monitored and reviewed so that you can spot your weaknesses and work on doing better the next time.
Luminosity app is available on Android and iOS.
Candy Sort Puzzle
Puzzles are undoubtedly an enjoyable workout for your brain. They help sharpen your orientation and visual skills.
There are multiple choices available on the Android Playstore for puzzle games. Still, my recommendation would be the Candy Sort Puzzle game if you want an engaging game with absolutely stunning graphics.
As the name suggests, you will be required to sort the candy balls systematically to pass the level. You have to collect the same type of candies in jars. Candy sorting will be a highly addictive game that shoos away boredom with its fun gameplay.
Easter Egg Jump
Push your mind to come up with ways to save the Easter eggs from falling down in the helix maze!
Easter Egg Jump is full of fun and a reasonably easy game where you rotate the helix with a finger tap and avoid the egg from falling into the maze. The graphics of this game won't disappoint you either, and you will have a good time playing this fun android game.
Tricky Test 2
One more game that gives you a series of quizzes and puzzles to sharpen your intellect is Tricky Test 2. The game is designed by skilled developers who have created brain challenging puzzles for some much-needed mental workout.
Challenges in Tricky Test 2 will test tour math skills, memory retention, and reasoning. They force you to think out of the box and come up with solutions to boost brain function.
By playing this game frequently, your brain will get the required exercise to boost its performance. Highly recommended to improve your IQ in a fun way. It is available on Google Playstore.
Takeaway
Evidence suggests that brain training games are showing noticeable improvements in brain development. However, making the right choice is difficult with a variety of options we are overwhelmed with.
You can be assured that the games recommended above are safe and highly engaging, plus they are quite effective at training your brain.
Author Bio
Audrey Throne has an ongoing affair with the words that capture readers' attention. Her passion for writing dates back to her pre-blogging days. She loves to share her thoughts related to business, technology, health and fashion.
Find her on Twitter: @audrey_throne