At this point, most businesses are leveraging social media in some capacity. In fact, you may already have a presence on Facebook, Twitter LinkedIn, and even Instagram. But having a presence on the social platform and actually driving proper engagement are two different things. This is why you must be acquainted with the right ways to utilize social media platforms for your businesses.
Social media can be beneficial for your business if you understand the nuances of each of the different platforms and then develop and implement a foolproof strategy. So, let's elaborate on the different ways to use social platforms to drive more engagement.
Set specific goals
An active presence on social media comes with a number of benefits for businesses. Some of the things you can accomplish with your social presence, are engaging customers, generating leads, expanding your audience, driving sales, increasing web traffic, and much more.
But to achieve the best results, you must develop an objective that you can work towards and create strategies accordingly. For instance, your methods for driving sales will be different than your approach if you wanted to improve your customer service, so it's crucial to understand what you want to accomplish.
Devise a proper strategy
Having a definite goal for maintaining a solid social media presence is great, but it's only the start. Once you have proper ideas about what you want to achieve, you need a plan to help you get there.
You can get a few people to together who will be part of the social media team, and define their roles and responsibilities clearly, so they know what's expected and when. You should also decide on the frequency of posting on social media, and create a calendar that will help you plan the posts and make sure you don't miss days.
Seek meaningful relationships, not just followers
The 100 followers who engage with your brand and your content on social media are infinitely more valuable than 10,000 that ignore you. It might sound to cliché, but don't neglect the "social" out of your social media experience. "The beauty of social platforms is that you can develop relationships in an instant with followers from just about anywhere', opines David Foster, an expert on marketing assignment help from Essayassignmenthelp.com.au.
If you're clueless where to begin when it comes to relationship-building, the following ideas might be helpful.
Always mention people that your social media posts are about.
Respond when the users mention you or share your posts.
Answer the queries people share in your posts.
Don't just like and retweet other people's content; respond with a comment to initiate a conversation.
For instance, Spotify has a dedicated support account on Twitter for consumers looking for assistance. This makes it easier for the consumers to resolve their issues and quickens the processing time for their customer support team as well.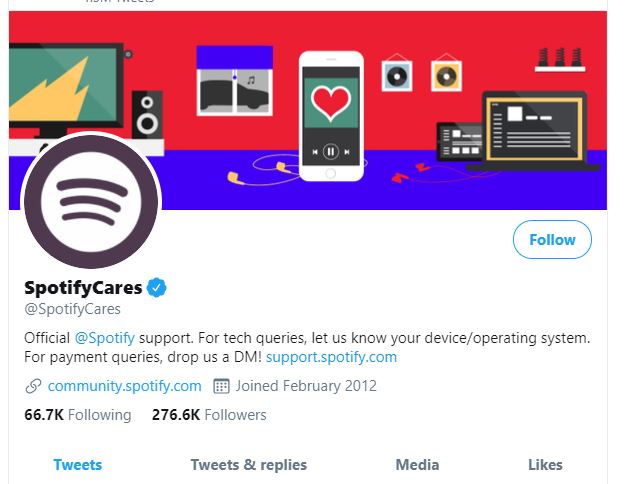 Optimize your accounts for meaningful engagement
Unlike SEO, social media optimisation isn't all that technical. However, profiles can be optimised through keywords, imagery and by filling out your account information.
For instance, brands can utilise their Twitter or Instagram bio to advertise their hashtag, link to promotions and let their brand's voice be heard. Check out the Instagram bio section Tommy Hilfiger for some clarity.

Some effective ways to optimise your social media presence are mentioned below.
Incorporate relevant keywords in your profile.
Share content associated with your industry, along with the keywords and hashtags in your posts.
Connect with other popular accounts in your industry to more exposure
Emphasize on helping more than selling
Even though social selling is becoming a norm, but the social media presence shouldn't only be about the "hard sell." If you're into ecommerce business, it makes sense to push deals and offers to your followers. However, it's more significant to answer the questions of followers, whether through replies or social media content.s
If your followers place a query, you should reply immediately. And if your followers are highlighting a particular problem, you should create content that speaks directly to it.
As per Tony Grace, a marketing manager at Myassignmenthelp, "By providing solutions to their issues rather than pitching your products all the time, you're proving your company is an authority. This increases your potential to earn lifelong consumers."
Automate but sensibly
Currently, automation is all the rage in the sphere of marketing, and for great reason. However, that doesn't mean you can put your social presence on autopilot and relax.
We are way past the days of mass auto-replies, and it typically comes across as insincere now. Automation in the form of scheduling or curating social media content is totally fair game. Just don't follow it when you're addressing actual consumers or followers' questions.
This is why most brands today rely on social tools to curate pieces of content already approved by marketing leaders. Some of these potent tools for social media platforms like Hootsuite, Buffer, and BuzzSumo can save a considerable amount of time. These tools allow you to plan and schedule multiple posts at once, but they also make it convenient to monitor your networks and reply to messages quickly.
Create social media content based on what's trending
Between trending hashtags, breaking news or whatever the latest meme trend might be, brands always have scope to get topical with their social media content. This is a brilliant opportunity not only to leverage the buzz around an existing trend but also highlight your brand's personality.
Understanding the importance of hashtags can help you brainstorm time-sensitive social media content topics that you can piggyback on. Of course, you need to tread cautiously with any sensitive issue that could isolate your audience.
Use tools to monitor social media platforms activity
When businesses talk about the lack of ROI they're witnessing from social media, there's a high chance they aren't taking social media marketing seriously.
Just like marketers rely on Google Analytics data, they need to put social media platforms under the same kind of scrutiny. In fact, there are a plethora of analytics tools out there to assist you in identifying your top-performing posts, and evaluating your social media presence by the numbers. These crucial data enables you to treat social media less like a guessing game and more like a science.
Wrapping it up,
Even though there's no shortcut to a better social media presence, following these ideas consistently will provide a remarkable result. Ultimately, you need to add value to your consumer so that they engage with your brand on social platforms. You can test your strategies, learn from your findings, and continue to make improvements.