In 2020, Facebook live streaming has become one of the major ways for a business to connect with its online audience spread all over the world.
There can be a number of purposes to broadcast live video on Facebook for businesses such as demonstrating a product, launching a new product, or engaging in Q/A sessions. It can also be used for company events and webinars that help the business become a thought leader in their niche and help in establishing their brand.
In this blog, we're going to take a look at how to broadcast live video to Facebook for businesses around the world and how to get the most value out of it!
How To Use Facebook Live For Business
Live streaming video on social media has become very common today for business and most brands and organizations broadcast live video to Facebook to some extent or the other. While the most common use case for live video is marketing and outreach, several benefits come with using the live platform.
For businesses and brands choosing the best live video streaming platform, Facebook Live is usually one of the first choices as it allows you to communicate in real-time with a massive online audience and is integrated into the social media platform itself.
Starting a live video on Facebook is also very easy and Facebook webcasting vendors provide additional services which makes the process much easier for business. Going live on Facebook is just a matter of clicks for most brands and individuals.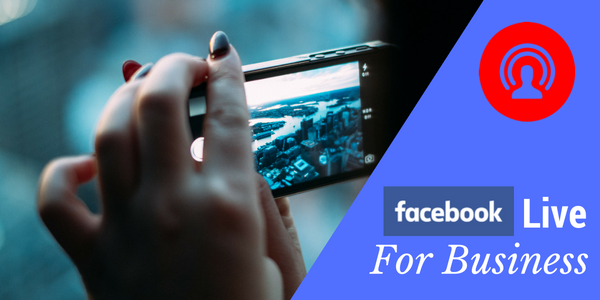 Facebook live streaming for business can be used for many reasons, such as:
Broadcasting live sessions of the business events and opening up to audiences all over the world.
Showing behind the scenes of the business and allowing customers to get a closer look at how the business works.
Hosting Q/A sessions with customers around the world.
Product launches and demos.
Top 10 Tips for using Facebook Live
Other than using Facebook live video streaming services, there are some other things that businesses should take care of to ensure that live streaming on Facebook provides the best results and returns for the
Here are some of the best tips all about Facebook Live stream:
Plan your broadcast

A Facebook Live session is, as the name implies, broadcasted live to the audiences in real-time. This means that there is a very low margin of error when you go live on Facebook. This is why it is better to plan the live stream as much as possible before executing it. It is a good idea to have a checklist that you can go through before every live stream. Other than ensuring that all your equipment is in place and working, you should also work on rehearsing and going through the content before you go live so you are better prepared when the live stream does happen.

Be authentic

Even though production value is very important not only for live streams but also for social media content is general, most live audiences prefer an element of authenticity in your live streams, especially for a small business webcast. By having a production style that is a bit raw and unedited, your live streams can actually be more successful as most audiences do not expect something to be super polished or look like an advertisement.

The appeal of live video, in general, is spontaneity and off-the-cuff moments that create a more intimate viewing experience for online audiences. This is why it is important to be authentic during your live streams! The audiences for live streams are also usually more forgiving, so you don't need to worry about losing their attention if your live stream is not entirely polished to perfection.
Pre-promote

A lot of businesses do not promote their live streams and this causes them to lose out on some viewers. Even though a live stream on Facebook should look and feel spontaneous, it is a good idea to have some pre promoting activities going on that helps in notifying your followers that you're about to go live. Facebook webcasting vendors usually provide promotional services too which can help in creating a buzz for your live streams.

Pre promotion of your live stream also helps in building anticipation in the minds of your viewers. Some good ideas for promoting your live stream in advance include creating social media posts and teasers and posting them well in advance of the live stream so all your followers are aware of the live stream that'll be incoming soon.

Check the internet speed and equipment beforehand

The worst thing that can happen during your live streaming is lag. This is when the live stream "freezes" due to some technical error. This is often the result of either faulty equipment or slow internet speed. This is why it is important to ensure all your equipment, including the routers that'll be used during the stream, are on point. Some Facebook live video streaming services also provide their dedicated equipment to ensure your live streams are 100% lag-free.

If you're live streaming from Hybrid Events and using mobile data such as 4G, it is a good idea to ensure that you don't have any problems with connectivity in the location you're streaming from beforehand to ensure you don't face any network issues during your stream.

Ensure metadata

The meta-data for a live stream refers to the information about the live stream that is provided to your viewers. This includes the video title, video description, etc. The meta-data allows your viewers to know what the live stream is all about and if you're serious about live streaming, you should focus on ensuring that the metadata is on point.

Ideally, you should use your video's description to tell a story that is engaging and makes the viewer want to engage with your live streams. The title should also be on point and capture the topic of the live stream perfectly. For a small business webcast, the correct metadata can really give a boost to the reach.

Use tagging

During every live stream on Facebook, you're allowed to tag people or locations. This not only provides more information to your viewers about the live steam but also increases the chances of your stream being discovered by new audiences which can lead to higher engagement. When you're using business live streaming solutions, tagging is often done automatically, which means you don't have to worry about it.

It is also great when it comes to letting your viewers know where you are. For example, if you're live streaming from an exhibition or expo for your business, you can let your followers know that you're at the event by tagging the location.

Constantly update your viewers during the stream

You'll rarely have your entire audience on the live stream right from the start. In fact, it is very common for people to join in between your live stream. This is why, as a live streamer, you should keep updating the viewers on what is happening so they stay in the loop.

For example, if you're live-streaming a Q/A session about a particular topic, it is a good idea to keep reiterating the name of the topic during the stream so, that people who just joined your live stream have the context to understand the content.

Be engagement-oriented

With a live stream, it is essential to engage with the audience to ensure that your live stream is received well. Some ways you can create more engagement in the live stream include responding to comments and using their names in your response. You can also run polls / use other engagement features provided by the platform during your live stream to ensure a more engaging experience for your viewers.

Save the live stream for other purposes
Live streams are usually long and well-produced content and it can be self-defeating if you just let all that content go away. This is why you should save a copy of every live stream you do and re-use the content for other purposes such as marketing and promotion.

You can also keep the entire live stream as an on-demand video on Facebook so it is always available to your followers, even those that might have missed the initial live stream.

Have a regular schedule

Lastly, as with most social media activities, regularity is the key to success in live streaming too. As a business, if you want to employ live streaming as part of your outreach strategy, you should do it in a regularly scheduled manner instead of doing a one-off live stream.
By regularly scheduling your live streams, you create a brand and regular followers of your live streams. It is very common for businesses to have a "series" of live streams such as a Q/A series that is done once a week, or once every few days.
Conclusion Live streaming video is one of the biggest tools businesses have for engaging with their online audiences in 2020. Live video is one of the most engaging media in the digital landscape and every company should focus on harnessing its power to create a higher online engagement for its brand.